salam be hame
inam soft man va mamad dark
khob in ye full bote kheyli kamele tosh ta tonestim kam nazashtim
FreeBuzZ FULL BOT V2.0 BY emperat0our@n.c& ---dark---@n.c
khob karaeisho begam az aval ta akhar!
in bot be 3 ta id ehtiaj dare yeki vase join to room yeki vase ban va member kardan yeki vase anti tabliq
qabeliat ha :
1.ANTI FLOOD
az esmesh peydast! in soft qabeliate ino dare ke flood ro tashkhis bede va ipisho block kone
kheyli hoshmandane!
2.ANTI PROGANDIZER (zede tabliq)
khob in bot mitune id haye tabliqgar ro ip ban kone vase in kar id sevom bayad member bashe
3. WELCOME PV AND WELCOME ROOM
in bot toye 2 ta halat mitune welcome bede
yeki to room va yeki toye PV
4. FULL REMOTE
kamelan mishe in soft ro ba remote control kard faqat vase hitler msg va hitler resource remote nazashtim
chun fk mikonim ehtiaji nadasht!
5. FULL MONITOR
6. hitler RESOURCE - hitler MSG
inam ke kheyliatun midunid.
ye seri kalame vase hitler use mikonid age kasi to room un kalamat ro bege vabaste be tanzimate
control panel kick - ban - visitor mishe in qabeliat roye hitler resource ham vojud dare
7. ANY JOIN
mitunid ye kari konid harkas join dad ye afffiliaton begire
masalan harki join dad kick - ban - visitor ya member beshe (baste be noe tanzimat)
8. LOVE BOT
dastoresh ine:
love id1/id2
be jaye id 1 va id 2 id bezarid
meqdar alaqe beyneshun ro be sorate random mide
9. ANSWER BOT
toye bot kalamati ro moshakhas mikonid ke age kasi to room on kalamat ro bege
bot javab haeio ke tosh gozashtid be taraf mige
in qabeliat ta 6 ta soal javab vojod dare
10. JOK BOT
in soft daraye jok bott hast mitunid jok tosh bezarid va interval timer ro set konid
har 1000 ta 1 sec!
11. ON KICK - BAN
agar kesi to room kick va ban kone to soft sabt mishe va mitunid ye kari konid to room ham
gofte she ke folan id tavasote folan id kick - ban shod
hamintor mitunid ye kari konid to pv shoma in gozaresh dade beshe!
12. BAN 60 ID IN 1 MINITUE
in bot mitune zamani ke auto ban fa al she to har 1 daqiqe 60 ta id ro ban kone
bishtaresh nakardim chun emkane block shodane id vojud dasht
13. ANTI HANG
in soft omran hang kone
agar khodaei nakarde ke motmaenam nemishe zabunam lal hang kard reconnect mishe
pas 9hang!
14. GIVE BANNED COUNT AND REMOVE IT WITH REMOTE
tedade ban shode ba ip ban ro mitunid az tariqe remote moshahede konid
va hamchenin mitunid pakesh konid
15. torokhoda bishtar chizi nemikhay?
inam dastoratesh:
v/id >visitor
a/id >admin
m/id >member
n/id >none
b/id >ban
k/id >kick
join/roomname >join room
left/ >left room
del/baninfo >delete ban info
wc/ac >welcome active
wc/de >welcome deactive
addwc/wlc >message add welcome message
del/wc >delete all welcome messages
delwc/wlc >message delete a welcome msg
shw/wc >show welcome messages
wp/ac >welcome pv active
wp/de >welcome pv deactive
wpm/wlc pv msg >set welcome pv message
shw/remoters >show remoters
aj/member >any join = member
aj/kick >any join = kick
aj/ban >any join = ban
aj/visitor >any join = visitor
aj/null >any join = null
shw/baninfo >show ban info
jok/ac >jokbot active
jok/de >jokbot deactive
jokadd/jokmsg >add jok msg
deljok/jokmsg >delete jok msg
addr/id >add remoter
del/r >delete all remoters
delr/id >delete a remoter
af/ac >anti flood active
af/de >anti flood deactive
fm/ac >hitler msg active
fm/de >hitler msg deactive
fr/ac >hitler resource active
fr/de >hitler resource deactive
cp/kick >control panel = kick
cp/visitor >control panel = visitor
cp/ban >control panel = ban
l/ac >love bot active
l/de >love bot deactive
ap/ac >anti progandizer active
ap/de >anti progandizer deactive
answer/ac >answer bot active
answer/de >answer bot deactive
jokt/number >jokbot interval (999)
------
nokte: in soft farsi va symbol poshtibani nemikone vali age dastorat ro ba remote vared konid
in moshkelesh hal mishe
masalan age to khode soft joke farsi bdid poshtibani nemikone vali age ba remote jok farsi
ezafe konid moshkeli nadare!
vase decode kardane horofe farsi qablan ye soft dadam darkbuzz farsi decoder mitunid az un
use konid
nokte2:
edite in soft sharan haram mibashad va bar khandane edit konande anvae fosh ferestade
va az khodavand arezoye marge O ra khahim dasht!
nokte3:hargune moshkeli dashtid yekimun ro add konid bgid version badi bedim!
[You must be registered and logged in to see this link.]
[You must be registered and logged in to see this link.]
nokte4: in soft ba VB6 neveshte shode to linke scan momkene ye seri anti virusa gir bedan
chun soft ba vb6 neveshte shode
horufe remot ro hatman bayad ba kuchik vared konid
ax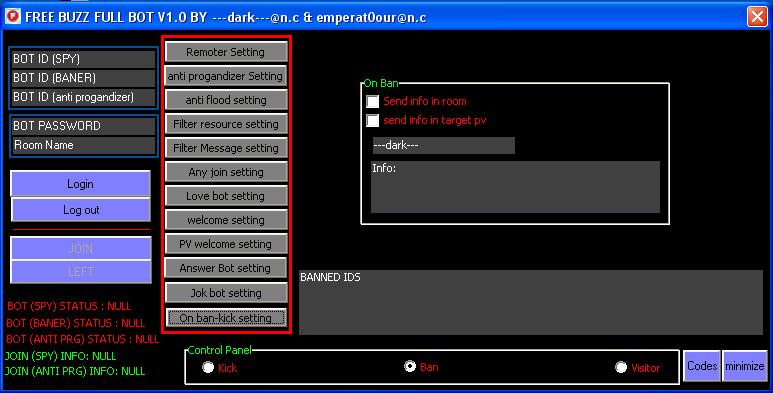 download
[You must be registered and logged in to see this link.]
Scan
[You must be registered and logged in to see this link.]